Featured Property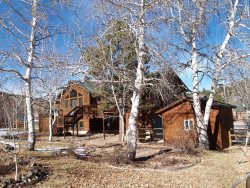 Family Home in the Heart of the Pikes Peak region
Guest Reviews
Thank-you for the opportunity to stay in your home. It was very clean and very well stocked! Thank-you for the use of the bikes, yard c...
Perfection!! This cabin is lovely, old fashioned log cabin in the heart of Woodland Park. It lacks nothing in the way of amenities and...
Loved the comfy beds, nice deck. We felt at home. We enjoyed watching the neighborhood deer & listening to the birds. We had a great ti...
View More Reviews
Available Properties
Loading Available Properties
Flexible Dates? View other Properties close to your Date Range.
Available
Unavailable
Check-in
Check-out
Not finding what you're looking for?